Product Specification: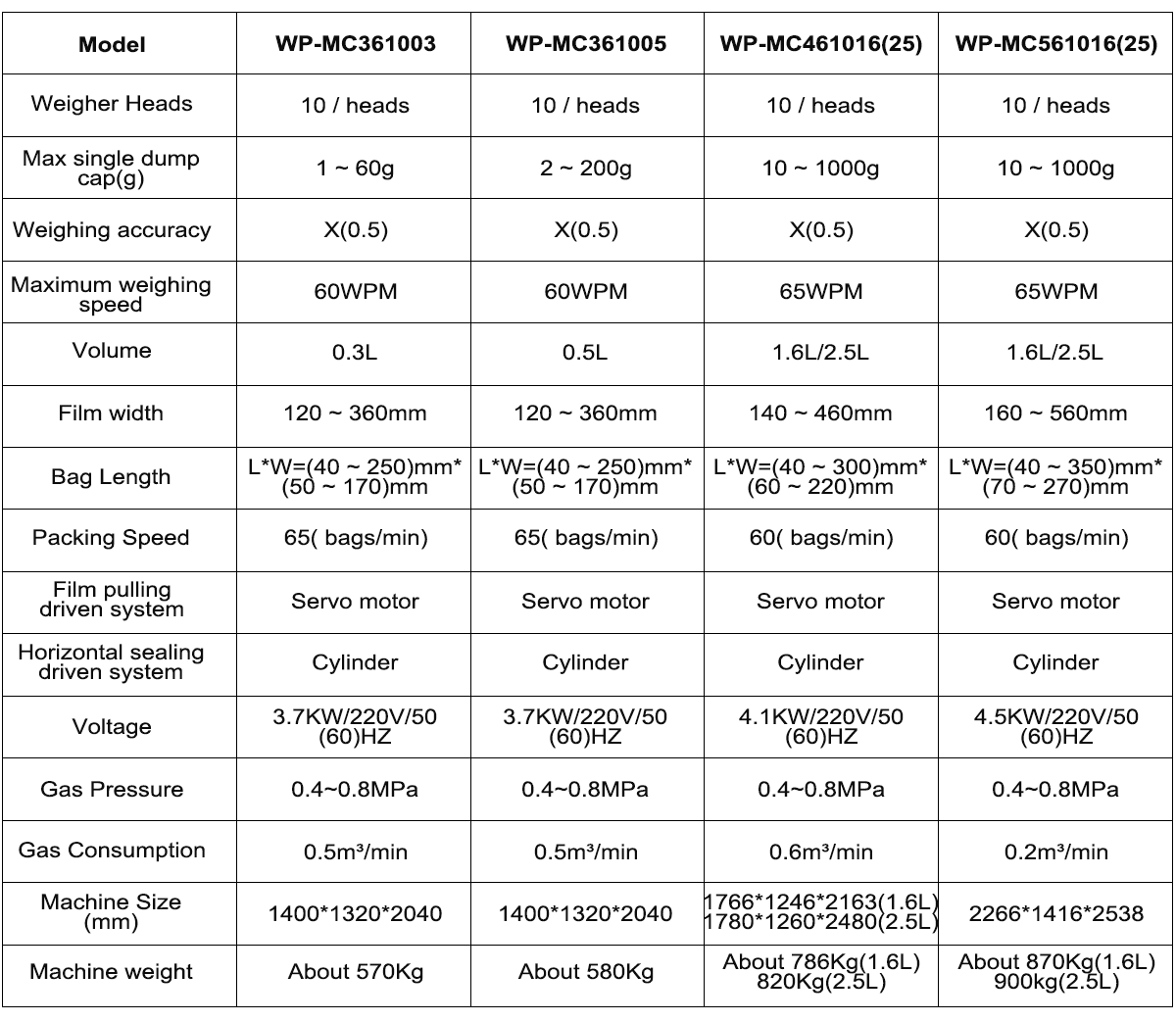 Delivery Time: If the material is in stock, the delivery time is 20-25 days. If not, the delivery time is about 40-50 days.
The Technological Process: Design → Production → Assembling → Quality Testing → Packing → Loading → Shipping
Product Features
Our wp-mc series weighing and packing 2 in 1 machine features an automatic error alarm system that ensures safe and reliable operation. This system is critical for preventing accidents and minimizing downtime, ensuring that the machine operates smoothly and efficiently.
The integrated control panel and user-friendly HMI touchscreen make it easy to operate and maintain the machine. The advanced technology streamlines the packaging process and provides operators with real-time monitoring and control over the machine's various functions.
The machine's servo motor-driven film feeding system and optical tracking devices ensure accurate bag length and color positioning, providing a high level of precision and consistency in the packaging process.
The machine's flexible design and compact frame make it suitable for a variety of standard workshops and small spaces. This feature ensures that the machine can be installed and operated in a wide range of production environments, providing a versatile packaging solution for any facility.
The machine's food-grade standard and use of SUS 304 texture material in food product contact parts ensure that the machine is hygienic and suitable for use in food processing and packaging environments. This feature is critical for maintaining product quality and ensuring compliance with food safety regulations.
Practical Cases and Applications
Applicable bag type: pillow bag, gusset bag, seal type bag.
Applicable Film Materials: a variety of laminated films, single layer PE film, film thickness range 0.04mm~0.15mm.
Applicable packing materials: a variety of snack food, deep frozen food, milk powder, coffee, oatmeal, granulated sugar, salt puffed food, rice, herbal, tea, small hardware, etc.