Product Specification: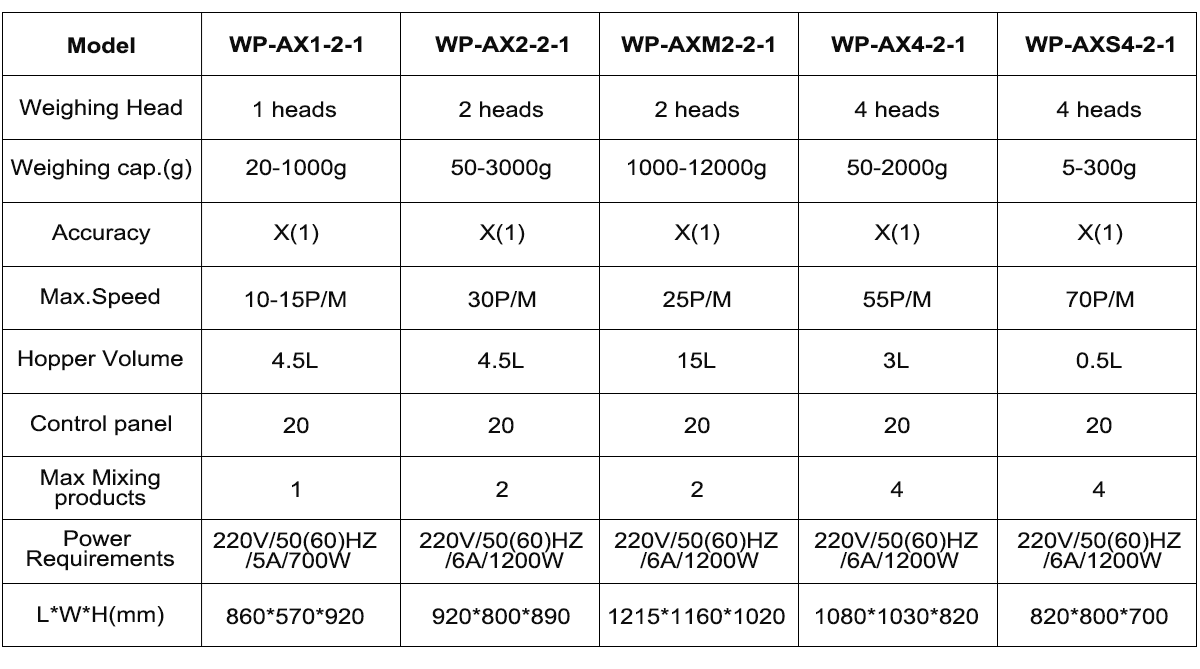 Delivery Time: If the material is in stock, the delivery time is 20-25 days. If not, the delivery time is about 40-50 days.
The Technological Process: Design → Production → Assembling → Quality Testing → Packing → Loading → Shipping
Product Features
1. Remote monitoring and tracking of products on the Internet: With the WP-AX series linear weigher, you can remotely monitor and track products on the internet, giving you greater visibility and control over your production process. This feature allows you to keep track of production in real-time, identify and troubleshoot issues as they arise, and make data-driven decisions to optimize your workflow.
2. Multiple different products can be weighed at the same time to get the mixture packaging: The WP-AX series linear weigher is designed to handle multiple different products simultaneously, allowing you to create mixtures with high precision and accuracy. This means you can reduce the time and labor costs associated with weighing multiple components separately, while ensuring consistent quality and minimizing waste.
3. Adopt a stepless vibrator feeding system to make the product flow more fluently: The WP-AX series linear weigher uses a stepless vibrator feeding system that ensures smooth and consistent product flow. This feature helps prevent jams and blockages, reducing downtime and maximizing productivity. It also ensures that products are weighed accurately, helping to maintain quality standards and minimize waste.
4. Parameter can be freely adjusted according to the production, easy to operate: The WP-AX series linear weigher is designed to be user-friendly and easy to operate. Parameters can be easily adjusted to suit your production needs, making it highly versatile and adaptable to changing product requirements. Plus, since the parameters can be adjusted on the fly, you can fine-tune them as needed to ensure optimal performance and efficiency.
Practical Cases and Applications
It is suitable for quantitative weighing of powdery and small granular materials such as sugar, salt, seeds, rice, sesame, monosodium glutamate, chicken essence, milk powder, coffee, seasoning powder, etc.
Our Professional Team & Skills
Our company has a modern standard factory, a visionary entrepreneurial team, a technically competent R&D echelon and strong after-sales technical service support.
We have been focusing on the R&D and manufacturing of packaging equipment for 10 years, absorbing a lot of advanced technology of foreign packaging machinery to improve and innovate, and aiming to become the benchmark and flag bearer in the industry.
At present, the technical department accounts for more than 20% of the company's headcount, and the annual investment in R&D reaches more than USD 500,000.